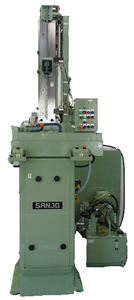 Drawing Process Type Broaching Machine
(Vertical type broaching machines)of standard machine
SLB-5100L
※Shown in the photo is the machine equipped with two-hand run buttons.
Our Machine Tool Division proudly provides mainstream machine manufacturing,
developing precise and reliable machines. In the field of automobile part interior
and surface broaching, we use high productivity automated machinery,
manufacturing which maintains consistent precision, options, and after-sales service.