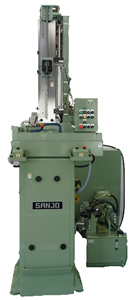 Drawing Process Type Broaching Machine (Vertical type broaching machines)of standard machine SLB-5100L
※Shown in the photo is the machine equipped with two-hand run buttons.
Our Machine Tool Division proudly provides mainstream machine manufacturing, developing precise and reliable machines. In the field of automobile part interior and surface broaching, we use high productivity automated machinery, manufacturing which maintains consistent precision, options, and long-term after-sales service. Through this, we ensure high levels of production and quality. Our broaching machines, there are available various model series for selection to be made based on the production formula applied as well as details of processes required.
Drawing Process Type Broaching Machine(Vertical type broaching machine)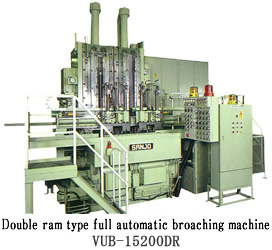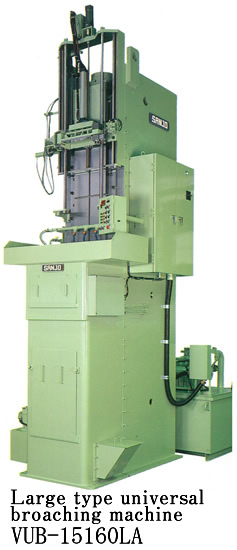 With the realization of stabilized high precision as well as efficient processing, the drawing process type broaching machine of Machine Tool Division contributes to the production rationalization.
1.High Processing Precision

With its functional body construction and smooth draw system developed with our ample experiences, high precision processed surface can be expected.

2.High Powered

A high power pump is mounted on the sturdy machine body of thick construction so as to ensure stabilized broachings.

3.Simple Operation

With the application of simplified space saving design as well as provision of concentrated operation panel, no skill has necessary and yet the workability will be improved.

4.Automation Applicability

As this is designed based on the automation oriented concept, the systematization as well as process line formation will further become easier to implement.
【Compact and low floor type of internal broaching machine, SLB series】
【By 3-axis, the pursuit of economic efficiency of 3-axis internal broaching machine, VIJB series】
【Large type universal broaching machine, VUB series】
Work Piece Moving Type Broaching Machine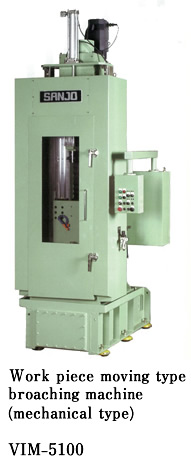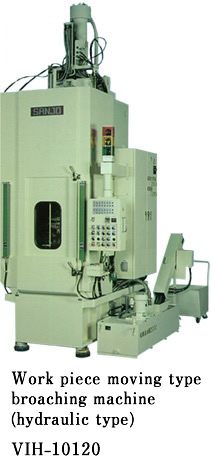 In the work piece moving type broaching machine, in order to pursue new possibilities in broaching, it offers a hydraulic type and mechanical type.

1.Workabilities are Significantly Improved
The structure to make processing by moving the work pieces makes the work table and pit unnecessary so that the processing can be controlled safely from an optional position.

2.Easy to Form a Line
Since the work pieces are fed in at the lower position and fed out at the upper position, combination with other relative process can be arranged quite rationally. Automation oriented design, chip rejecting system and automatic door, etc.are adequately provided making systemization easier.

3.Stabilization of Processing
Highly precise and smooth ascending/descending of the table is ensured with the guide system of hydraulic cylinder(in case of VIH series)installed in the center of guideways or precision ball screw (in case of VIM series)as well as the supportihg method of both ends of table with wedge guide. High stabilized processing is realized by the well proven highly rigid structure of the machine body and high power motor.

【Work piece moving type broaching machine(hydraulic type), VIH series】
【Work piece moving type broaching machine(mechanical type), VIM series】
High Speed Type Broaching Machine
This is a best suited broaching machine for the external processing of small parts for the purpose to do the high speed broaching, and is applicable for the multi-quantity production. It is with compact design applied in pursuing better workability, and can, also, be used in specialized purpose exclusively as usage requires, since its peripheral equipment is available in sufficient kinds.

【High Speed Type Broaching Machine, SHB series】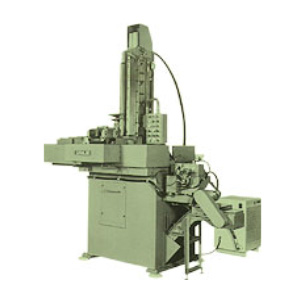 High Speed Type Broaching Machine
SHB-510