Business&Products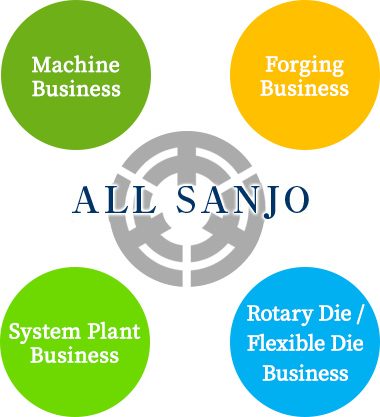 We introduce 5 divisions system
Manufacturing highly evaluated by the world
Machine Business
Consistently pursuing high accuracy and precision, we are dedicated to developing a wide range of products such as industrial machines, machine tools, printing machines. We always combine existing technologies with technical innovation, accommodate customers' needs based on our thorough market research and strongly committed to developing new products. Therefore, we promise that we continue providing excellent products. With the latest mechatronics, Sanjo Machine Works' products have received a high evaluation overseas as well as demestically and earned confidence worldwide.

JQA-EM3659
HEAD OFFICE AND SANJO FACTORY
Developing and manufacturing the next generation of machines and systems to meet the world's needs.



Industrial Machine & Specialized Machine

Cigarette Use Filter Production Machine
Original Industrial Machine
Rotary Die/Flexible Die Business
Rotary die of for cutting and punching various kinds of material is one of our main products. Such rotary dies are designed to cut or punch nonwoven fabric, paper, metalic foil in continuous way , and adopted in wide range of industries such as printing, food packaging, pharmaceutical packaging , IT, sanitary etc. And flexible die is a one-touch detachable blade that can be used in wide variety of products. Focusing on label cutting and die cutting of envelopes, punching of hard materials such as hard films is also possible.
JQA-EM3659
HEAD OFFICE AND
SANJO FACTORY

HEAD OFFICE AND
SANJO FACTORY,
Technical Die
Department
Forging Business
The Forging Department has its proprietary technologies that can be used to manufacture accurate and precisive yet light products and boasts the highest level technologies in the world. Our automated production lines enable us to manufacture precisive products with more reliability and higher uniformity. Also, we have established integrated production lines from forging to machining and assebly. Therefore, we have considerable advantages of rigorously implementing quality and production controls from materials warehousing operation to molding, production inspection.
JQA-EM3659
HEAD OFFICE AND
SANJO FACTORY

JQA-QM3933
FORGING DIVISION
Diecasting Mold Business
Our top priority is to meet any needs with our long year's experience since 1962 and future oriented technologies. We have introduced electronics technologies such as CAD/CAM earlier and established our comprehensive production system from prototypes to finished products. Accordingly we will develop our molding business further to shorten the lead time for high precision mold.
JQA-EM3659
HEAD OFFICE AND
SANJO FACTORY

HEAD OFFICE
ANDSANJO FACTORY,
Technical
DieDepartment