Rotary die of for cutting and punching various kinds of material is one of our main products.
Such rotary dies are designed to cut or punch nonwoven fabric, paper, metalic foil in continuous way , and adopted
in wide range of industries such as printing, food packaging, pharmaceutical packaging , IT, sanitary etc.
We can manufacture up to φ500, the largest in Japan, and a maximum effective punching width of 1000 mm.
Test Cutting
We can process a wide variety of materials, from paper to metal.
We will do a test cut if you give us the material.
Please contact us for more information.
What is Rotary Die?

Rotary die is die cutting cylinder to cut or punch thin and soft materials such as disposable diapers, disposable pocket warmers,
food packaging material, film, metalic foil in mass production.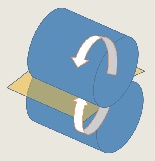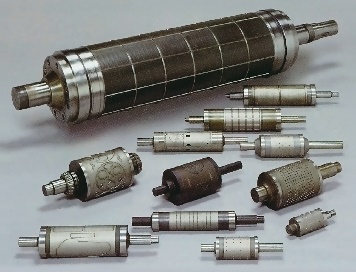 Wide range of application from daily use products to industrial products

【Food related Products】

●Food packaging material ●Food tray ●Paper bag ●Confectionery dough 

【Non-woven fabric Products】

●Disposable heating pad ●Face mask ●Sanitary napkin ●Disposable diaper ●Toilet seat cover 

【Paper Products】

●Coffee filter ●Various card ●Various label tack ●Various paper container ●Fruit packaging material 

【Medical / Pharmaceutical related Products】

●Polutice ●Adhesive plaster ●Medical intravenous drip container ●Aluminium Laminate packaging 

●Adhesive plaster ●Medical intravenous drip container ●Pharmaceutical packaging materials

●Various medical Products ●Plaster 



【Others】

●Various film ●Silicon wafer transport tape ●IT related parts ●Litium battery ●VariousAluminum foil, Copper foil 
【Main customer】

◎Paper industry ◎Wrapping industry ◎IT industry ◎Medical supply industry ◎The printing industry ◎Cosmetics industry ◎The food industry ◎Sanitary industry
High-precision machining on the surface of a cylinder
With the processing technology cultivated in the manufacture of rotary dies, we are able to handle high-precision processing on hard cylindrical surfaces exceeding HRC60. We also accept various types of cylindrical polishing.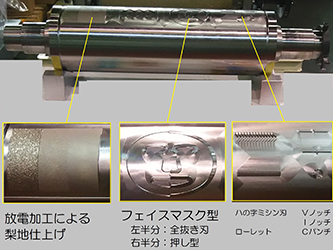 Die Unit
●Compact design of our rotary die unit makes it possible to be installed into packaging machines with ease.

●The side frames which support our rotary die with ultra precise structure are extremely rigid and help to perform ideal cutting
●Our rotary dies can be utilized for every stage of productin in the form of front cutting unit, back cutting unit, and even vertical cutting type which makes cutting process possible while filling.

【System configuration】
●Unit formation from unwinding to printing, cutting, collection, and finally packaging for finish.
●Many kinds and many types of units systematize desirable porduction formation.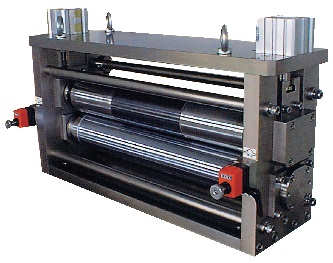 Die units are mounted to the specialized machine (rotary die-cut system machine).
 We are ready to design and manifacture rotary die-cut system machines centralized on rotary die unit in cooperation with our industrial machine sector.