Business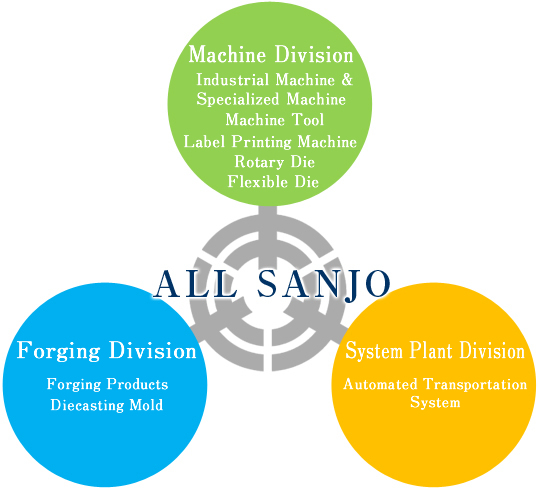 We manufacture with our overall capabilities
We introduce 3 divisions system
Manufacturing highly evaluated by the world
Machine Division
Developing and manufacturing the next-generation machines and systems to meet worldwide needs.
Consistently pursuing high accuracy and precision, we are dedicated to developing a wide range of products such as industrial machines, machine tools, printing machines, rotary dies and flexible dies. We always combine existing technologies with technical innovation, accommodate customers' needs based on our thorough market research and strongly committed to developing new products. Therefore, we promise that we continue providing excellent products. With the latest mechatronics, Sanjo Machine Works' products have received a high evaluation overseas as well as demestically and earned confidence worldwide.
Forging Division
Our rationalized forging system enables us to provide products of both high quality and low cost.
The Forging Department has its proprietary technologies that can be used to manufacture accurate and precisive yet light products and boasts the highest level technologies in the world. Our automated production lines enable us to manufacture precisive products with more reliability and higher uniformity. Also, we have established integrated production lines from forging to machining and assebly. Therefore, we have considerable advantages of rigorously implementing quality and production controls from materials warehousing operation to molding, production inspection. The Diecasting Mold Department has itsmechanical equipment and technologies that can be used to manufacture large-scale dies for 4,000 ton-class casting machines as well as small precision parts in order to meet the diverse needs of customers.
System Plant Division
The System Plant Division is responsible for designing, manufacturing, installing of automated delivery systems for general factory automation applications.
Since 1946, Sanjo Machine Works has been doing business as a leading manufacturer of cigarette-processing equipment. Utilizing the accumulated advanced technologies, we actively conduct the development of automated equipment and labor-saving device for many other companies. Orinally, our Takasaki Factory is a R & D center, taking care of the development of cigarette-processing equipment. A diversity of technologies, mainly mechatronics are utilized for automating and systematizing production and logistics in many fields.